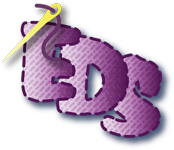 Embroidery Design Suite
| | |
| --- | --- |
| | This document gives a step by step guide to starting a digitising session and digisting a design using an image loaded from your PC |
This document gives you a complete step by step guide from opening the EDS program & starting a digitising session using an image loaded through to exporting to an embroidery machine format. It includes jump stitches, tie off stitches, colour changes, column and fills and special stitches.

This is a must for first time and experienced digitisers & embroiderers !

Includes workflow diagram, project index and much more.

Please click here to download the flower image to use with this tutorial.
| | |
| --- | --- |
| | This document shows you a complete step by step guide for merging 1 or many designs with other designs. |
| | |
| --- | --- |
| | This document demonstrates a step by step guide to starting a digitising session and digisting a fill pattern |
| | |
| --- | --- |
| | This document demonstrates a step by step guide to starting a digitising session and how to digitise stright and curved running stitches within a design - Tacking stitches or stitches running from one section to another for example |
| | |
| --- | --- |
| | This document demonstrates a step by step guide to starting a digitising session and digisting straight and curved columns within a design - Lettering for example. |
| | |
| --- | --- |
| | This document demonstrates a step by step guide to starting a digitising session and digisting with straight and curved inbuilt special stitches. |
| | |
| --- | --- |
| | This document demonstrates a step by step guide about how to create your very own special stitches. |
| | |
| --- | --- |
| | This document demonstrates a step by step guide to exporting a digitised design or expanded / imported design for use on your embroidery machine. |
| | |
| --- | --- |
| | This tutorial guides you through de-activating your Data 7 EDS system on one PC and activating it on another step by step |
| | |
| --- | --- |
| | This document shows a basic example of how to punch you own monogramming letters so you can create you own alphabets. |
| | |
| --- | --- |
| | This document provides a list of all the fonts available in the EDS, what they look like, info on letters available and the optimum size to use them at. |